Innovative smart thermostats are managing our homes' indoor climate systems like never before. They help cut the cost of heating and cooling, without sacrificing comfort, by fine-tuning your energy usage. Whether it's a smartphone user interface or advanced learning capabilities, take advantage of modern adaptive technology to help care for your family. Check out our picks for the coolest six features you can find on the latest smart thermostats.
Wireless Connectivity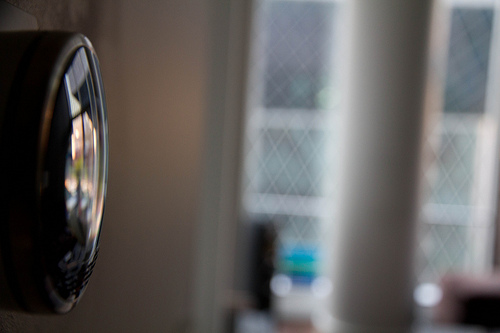 These devices are compatible with a variety of apps, so you can connect to your home Wi-Fi and immediately transmit data to any device — like a smartphone, tablet, or computer. Use this information to compare your energy consumption and your home's temperature on the go and in real time. Many of these new devices offer a large touch-screen and colorful display as part of their intelligent, easy-to-use design.
Integrate With Alexa
Many new thermostats, like the Ecobee4, offer integration with Alexa — Amazon's virtual assistant — or another intelligent home hub, such as Siri's HomePod. These neat systems offer innovative new features like voice control and alerts, and they can control your smart home thermostat completely wirelessly. At your command, Alexa will adjust your thermostat to a pre-determined temperature minutes before you walk through the door.
Advanced Learning
Like other high-tech devices, smart thermostats learn and remember your behavior so that they can make changes to your home's temperature automatically. The Learning Thermostat by Nest delivers energy-saving measures with its predictive software. Once you've set your preferred temperature a few times, your thermostat remembers your ideal comfort zone and regulates the temperature of your home accordingly.
Weather Forecasting
Imagine your smart thermostat adjusting simultaneously as the weather changes outside. If you need another reason to upgrade to a smart thermostat, Schneider Electric's Wiser Air is one device that monitors outside climate and will set the inside temperature based on current weather conditions. Its touch-screen displays weather reports and critical emergency weather alerts. Feeling chilly outside, or is a warm front moving through? No matter what the weather is like, your smart thermostat will make sure your home feels just right.
Geofencing
Geofencing is a cool bit of technology that knows if you're home or away and will turn your system on and off automatically. Once you've set up virtual perimeters around your home, the smart thermostat can detect when you are inside the boundary or have left the area. With geofencing, you'll never waste energy when you're away from home.
7-Day Programming
This handy little feature works great for homeowners that like to keep it simple. For example, Lyric T5 smart thermostat from Honeywell offers the ability to program different temperatures by the days of the week. If you're at work Monday, you might lower the temperature for added savings. If you and the family spend Sundays at home, then that will likely factor into your programming too.
Today's tech-savvy and eco-friendly homeowners want a tool that delivers energy-efficient comfort whether they're at home or away. For big savings and peace of mind, set it and forget it with a smart thermostat.