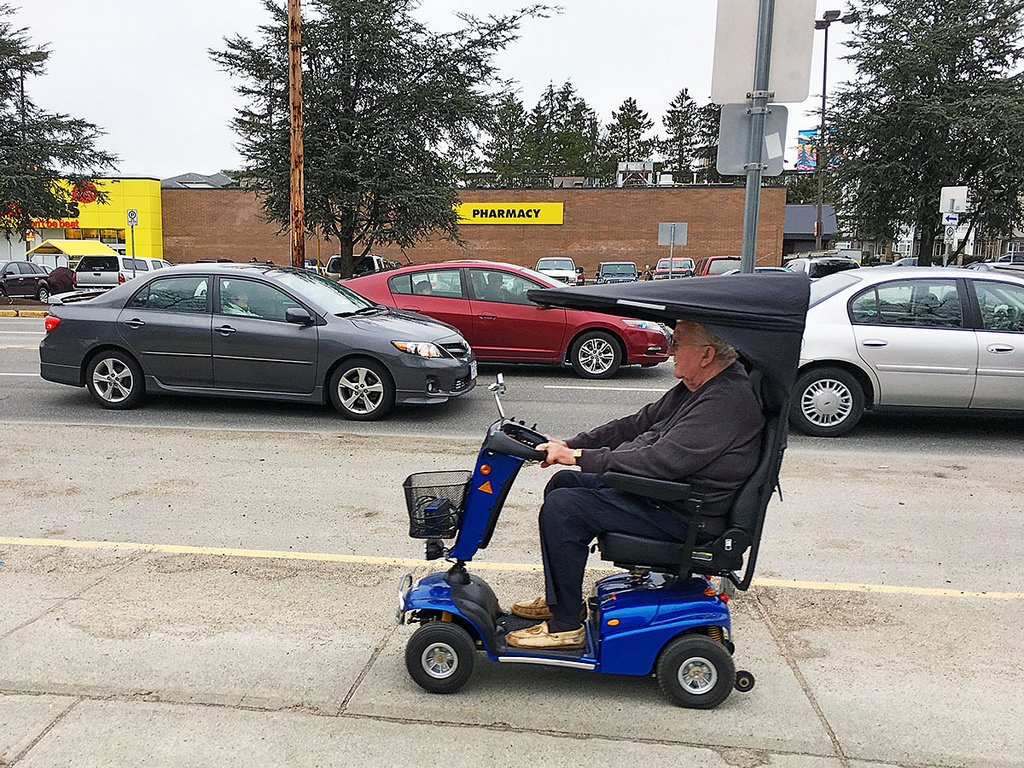 During the holidays or for a birthday, purchasing a gift for someone in a wheelchair can be a great opportunity to make a thoughtful statement. Although you can certainly get them any gift that you would purchase for someone who is not wheelchair-bound, searching out those gifts that ease their lives can prove to be the most appreciated.
As a suggestion, why not consider a gift that helps them to be more comfortable, more independent, or one that increases their mobility? Today, there are companies that provide a range of products that fit these parameters and that add to the comfort, security, self-confidence and independence of someone in a wheelchair.  
Increased Mobility
Mobility scooter
There are only a few products that assist those in wheelchairs to have increased mobility and independence when they are outdoors. One product that serves this purpose very well, is a mobility scooter. These battery powered and self-propelled four or five wheel scooters are easily operated by the rider using controls on the handlebars or a foot plate. Mobility scooters have long battery lives and as a result have large batteries and can bulky, but in the right environment, like a family function or a day out, mobility scooters provide the highest levels of mobility and independence.
A newer and even more functional product is the fold-up mobility scooter which is a smaller version, that can be folded to fit into the back of a sport utility vehicle or the trunk of a car. They are compact and much lighter than traditional mobility scooters and are designed to be transported to places where the rider would enjoy moving around unattended. This might include shopping, visits to a local park, a doctor or hospital appointment, or even a social gathering.They assemble quickly and provide enough power hours of mobility.

All mobility scooters have variable speeds, with the fastest being approximately the pace of a fast walk, so there are no safety concerns for the rider. If you want to increase the self-confidence and joy of someone in a wheelchair get a mobility scooter for that person.

Greater Comfort

Wheelchair Lap Cushion / Tray
Many of those in wheelchairs have issues with balance, and often run the risk of falling out of their chairs. Needless to say, this is dangerous and can cause anxiety and embarrassment. Thankfully, there are several products on the market designed to assist. One that is very effective and functional is a wheelchair lap cushion that also doubles as a tray. It attaches firmly to a wheelchair and has a cushioned rear portion that will both keep the person sitting upright and not cause any harm to the person. It also functions as a lap tray which can be used to hold meals, a laptop or tablet computer, important papers, and even reading material. When not in use, it can be completely detached from the wheelchair. This gift will provide the person greater comfort and increased safety.

Greater Independence

Wheelchair Light
For those in a wheelchair it can be very difficult to reach a light switch or gain access to lights in many places they go. Often rooms will have light switches that are simply too high or in inconvenient places for those confined to wheelchair. This can be a struggle when the person has to get up in the middle of the night to use the restroom. They must inconvenience someone just so they can see where they are going or bump their wheelchairs around a room in the dark. As one can imagine, this can be quite demoralizing and in some cases a safety concern. It also creates an opportunity to give a gift that can really help.
A few companies sell an LED mounted wheelchair light that affixes to the wheelchair and is directional, so the person can aim it anywhere they are going. The light really comes in handy whether the person is indoors or outdoors and at home or away. This gift is low priced, but shows how much you care for the person's safety and comfort.
Each of these gifts will meet your desire for a functional and thoughtful gift. Your friend or family member will love that you have been so considerate.